Serving Hot Yoga to New Jersey since 2002. We want to thank all our fellow yogis who make our studios a warm and special place.
Voted "Best Yoga Studio in New Jersey", by NJ Monthly Magazine Reader's Poll, 2012. In 2010 & 2009, we were on the A-list for NJ Health and Beauty magazine. In 2009 we also got the Editors' Choice Award.
As we welcome 2015, we are reflecting back on our 18 classes in 30 days contest STARS! All you participants ROCK!
If you participated and finished the challenge, don't forget to pick up and flaunt your prize - a free Surya Marble tank-top.
Thanks to the huge number of participants, Surya's studios were packed with determined and energetic yogis all throughout November. Some yogi's like Neil Shah and Patty Lin completed 26!
Surya Spotlight: Teacher & poet Kathleen Kraft Sometimes poetry can inspire the teaching and practicing of yoga postures. The definition of poetry is; writing that formulates a concentrated imaginative awareness of experience in language chosen and arranged to create a specific emotional response through meaning, sound, and rhythm. Whether it's during a heated power sequence or a soothing Savasana, both yoga and poetry encourage introspection and awareness. Kathleen Kraft, one of our Surya's yoga instructors, is also a poet and recently published a book of poetry, "Fairview Road".
In 2014, "Liberation Prison Yoga" was created to support yoga instructors interested in teaching yoga and meditation to those incarcerated in prisons in New York. "I'm motivated by a desire to share yoga and meditation because the practice benefited me in my own healing process. Those who have been reached by some of us will in turn become strong leaders, and help others on their own journeys." Anneke Lucas, founder of Liberation Prison Yoga, told the Huffington Post.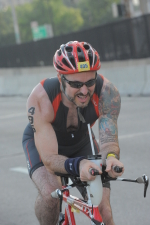 Justin Condon has been a member of Hoboken Surya for 3 ½ years and he is a seasoned triathlete. A triathlon combines three sports; swimming, biking and running. The multisport race tests the endurance more than any single sport alone. Justin has competed in ten triathlons since 2012, and plans to complete four more this year. To train for his vigorous sporting events, he swims, runs, bikes, lifts weights, goes to boot-camp classes and still finds time to fit in a Surya Yoga classes.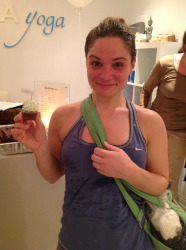 Surya Yoga Academy opened the doors to their 4th location this weekend in downtown Hoboken.
Located just steps from the Path station to New York City, the lovely studio is tucked away in a serene space at 79 Hudson Street.
The front reception area gleamed with fresh energy and excited new yogis. A beautiful "Surya" tree decal decorated the glass door that led yogis into the studio and inside the immaculate new studio, pretty Sanskrit images that mean 'peace' wrapped around the room.
We are always looking to challenge our yogi's here at Surya and this year's 18 classes in 30 days Challenge was no exception.
Sign-up sheets filled up fast, but our participation stickers went even faster! Our yogi's were so devoted to the challenge that once they used up the participation smiley stickers, they started drawing in their own smiley faces with fun accessories like horns and feathers. We would love to share with you what some of our lovely yogini's are saying after completing the challenge successfully!
You can be a teacher TOO!
Thinking about Yoga teacher Training. Surya's next teacher training starts soon on March 7th w/Anayra Calderon and Vic Arvizu and if you are on the fence check out what our inspiring Amanda Amos, our recent graduate has to say about her experience and training at Surya....
David Mattingly--Studio member since 2002 - is participating in 18 classes in 30 days Challenge! David is amazing, he has been a Surya member for 12 years and is very committed to his practice. "I definitely plan to participate it in. The 18 classes in 30 day challenge should be great fun!"
posted by Surya Yoga | 1/14/14 | no comments Picture it: 1st of January, 2014. 11am. Surya Yoga's Midtown Hoboken Studio. 40 beautiful Yogis showed up for the New Year's Day Class, which was brilliantly co-taught by Jason and Erica. Believe me, it was an amazing class....thanks Jason for helping us put together this blog together...in his words...