Serving Hot Yoga to New Jersey since 2002. We want to thank all our fellow yogis who make our studios a warm and special place.
Voted "Best Yoga Studio in New Jersey", by NJ Monthly Magazine Reader's Poll, 2012. In 2010 & 2009, we were on the A-list for NJ Health and Beauty magazine. In 2009 we also got the Editors' Choice Award.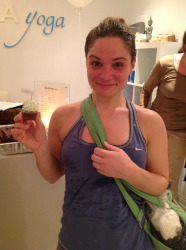 Surya Yoga Academy opened the doors to their 4th location this weekend in downtown Hoboken.
Located just steps from the Path station to New York City, the lovely studio is tucked away in a serene space at 79 Hudson Street.
The front reception area gleamed with fresh energy and excited new yogis. A beautiful "Surya" tree decal decorated the glass door that led yogis into the studio and inside the immaculate new studio, pretty Sanskrit images that mean 'peace' wrapped around the room.
We are always looking to challenge our yogi's here at Surya and this year's 18 classes in 30 days Challenge was no exception.
Sign-up sheets filled up fast, but our participation stickers went even faster! Our yogi's were so devoted to the challenge that once they used up the participation smiley stickers, they started drawing in their own smiley faces with fun accessories like horns and feathers. We would love to share with you what some of our lovely yogini's are saying after completing the challenge successfully!
You can be a teacher TOO!
Thinking about Yoga teacher Training. Surya's next teacher training starts soon on March 7th w/Anayra Calderon and Vic Arvizu and if you are on the fence check out what our inspiring Amanda Amos, our recent graduate has to say about her experience and training at Surya....
David Mattingly--Studio member since 2002 - is participating in 18 classes in 30 days Challenge! David is amazing, he has been a Surya member for 12 years and is very committed to his practice. "I definitely plan to participate it in. The 18 classes in 30 day challenge should be great fun!"
posted by Surya Yoga | 1/14/14 | no comments Picture it: 1st of January, 2014. 11am. Surya Yoga's Midtown Hoboken Studio. 40 beautiful Yogis showed up for the New Year's Day Class, which was brilliantly co-taught by Jason and Erica. Believe me, it was an amazing class....thanks Jason for helping us put together this blog together...in his words...