Megan Eaton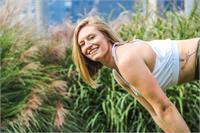 Megan began practicing yoga in Indiana, over 10 years ago. What began as a simple weekly routine to relieve pain from a former injury turned into much more. After moving to New York City, her practice turned into a deeper, daily exploration of herself. It was during that time, she discovered her true passion, to give this practice to others.
In December of 2014 she completed her first teacher training and has been sharing what she learned ever since. Megan holds a 200-hour vinyasa certification, a restorative certification, and is in the process of earning her 500-hour advanced teaching certificate. She truly believes that yoga is a practice and is always yearning to learn and discover more.
Megan Eaton instructs the following:
Enjoy this Vinyasa flow of breath and movement with attention to alignment. Variations offered for strong practitioners. Learn how to take your practice seriously, but yourself lightly.

RECOMMENDED FOR ALL PRACTITIONERS.




This class is a great introduction to Hot Vinyasa Flow. It's a great class for an introduction to Hot Yoga. Class includes basic forward and backward bending poses, twists, basic flows, lunges and basic inversions.

RECOMMENDED FOR BEGINNERS AND ADVANCED BEGINNERS.